VIDEO - Christmas Rush (The Travel Channel)
1995-2023 the original "Ultimate Ornament"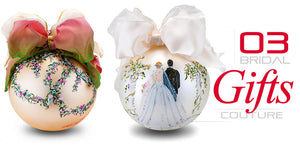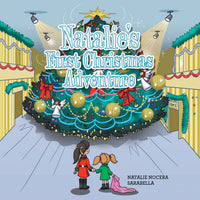 Natalie's First Christmas Adventure
From Natalie: 
I am very excited to let everyone know that my book "Natalie's First Christmas Adventure" is ready for pre-order. More information on drop dates will be listed shortly.

Book Excerpt:
Natalie and Carolyn were excited when they woke up on Saturday morning. They have been waiting for this day, and it was finally here. Today was the day they were going to see Santa ...

ORDER on Amazon Website - CLICK HERE >
ORDER on Barnes & Noble Website - CLICK HERE >
Pre-ORDER Book
Meet Natalie Sarabella
World renowned for excellence and quality. For close to 30 years Sarabella has been sold in the finest department stores, major hotels and boutiques around the world. Custom creations, private commission, worked within the Movie, TV, Music and Sport industries as exclusive corporate gift ornaments (The Grinch, Disney's Fantasia, the 3 former Presidents of the United States).

Innovative, creative, unsurpassed quality gifts for ALL occasions!
Learn More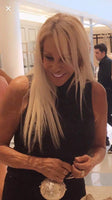 Natalie Sarabella
Creator and CEO of Natalie Sarabella LLC.

Natalie has been in business close to 30 years. She is the creator of "The Ultimate Ornament" which made its debut in 1994. The collection is ever growing and we promise to dazzle you as always.
Dear Friends,
Together, we are facing a truly unprecedented situation. The global coronavirus pandemic is affecting all of our families, our businesses, our communities, and our way of life. During this time, I wanted to reach out and extend my heartfelt wishes and prayers for each and every one of you, our United States of America and the World.
NATALIE SARABELLA ON QVC (July, 2021- SOLD OUT)
Set Of (6) 2.5" Glass Ornaments by Natalie Sarabella
These decorative glass ornaments will elevate the look of your Christmas tree -- each depicts a different holiday scene and has a festive bow trimmed in gold. From Natalie Sarabella.

+ Includes six ornaments
+ Gold-trimmed bows
+ Assorted holiday motifs
+ Glass construction
+ Each measures 2.5"Diam
+ Imported
Natalie Sarabella on QVC (2020)
Happy Christmas in July from Natalie Sarabella and QVC & QVC2. This beautiful replica set of six most prized Sarabella ornaments was created
exclusively for QVC this past Christmas season. Now available to shoppers who love the best for their investments, these six ornaments will delight everyone.

Each design has hand-placed crystals atop the Sarabella design. This is the last chance as they are now at limited quantities. They will not be returned this season. Each ornament can be used as a special added feature to your holiday wrappings, cookie trays and place settings.

Another idea that Natalie loves is scattering them or filling your tree with Natalie's ornament designs. Family and friends, surprise guests (Secret Santa or Christmas ornament exchange) – they all will love having a special memento with them as your gift to them, as a remembrance of this perfect Christmas celebrated together. 
QVC and Natalie Sarabella
QVC and Natalie Sarabella have collaborated to bring all our fans a special 25th Anniversary, Limited Edition Ornament set available only on QVC.com. Natalie was the Guest Host on October 22, 2020 from 7AM-9AM

A six piece set that are Natalie's most popular designs. Watch video and listen to stories about the meaning behind each of these little gems.

Since this year marks 25 years of excellence, QVC had a very special collection so everyone was able to collect her prized designs as Natalie explained:  

"With Covid keeping family and friends apart for months, we are looking forward to sharing and celebrating Christmas together with family and friends.  This lovely set of six 2.5" ornaments can commemorate  the best part of 2020 for Family & Friends.

Our Anniversary Collection is only available on QVC and once they are gone they will not be brought back until next year with all new designs." 

Natalie loves the idea that the set can be split up and given as individual gifts. They are perfect for place settings and each of your guests to take home a precious collectible. 
Teachers, Hair Dressers, Grab Bag are just a few ideas of how you can give these little treasures individually and have 6 perfect gifts. 

A special note card from Natalie comes with each set to remind everyone that you are truly loved and appreciated.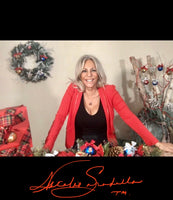 1994-2023 the original ultimate ornament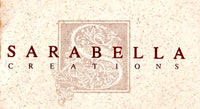 Natalie started Sarabella Creations in 1994 her cousin Janet Mormile joined her in 1995. With dedication and drive Natalie created her first "Ultimate Ornament".

The duo brought the brand to collector/heirloom status and they are collected all over the world making the brand internationally renowned for the excellence in each masterpiece. Happily retired Janet is residing in California, soaking up the sun with her family.
1995 Sarabella Creations.
Testimonials
It is I who must thank you for having a dream and following it. Walking into Bergdorf's all those years ago took a great deal of confidence. I would like to add that it's impossible to have a relationship with (company name retracted) or big companies. Thank you for being available and accommodating to those of us who admire and love your work! 

Barbara Boyle
Many years ago Charlie and I had a Christmas ritual. The Friday after Thanksgiving he would take me to Plandome Road in Manhasset, NY to browse the gift shops. One year while in the Enchanted Cottage a small pillow caught my eye. The owner, who had gotten to know me, came over and said, "It's a Natalie Sarabella." The name meant nothing to me at the time but the crystals... oh the sparkling crystals. Of course I bought the pillow for myself. It wasn't going to anyone. This was pre computers.

When computers came out and I became somewhat proficient I looked up Natalie Sarabella. She has a website with the most beautiful ornaments. Over the years I've been able to purchase the ones I want sometimes with Natalie's help. Her crystals, glitter, bows, attention to detail and designs astound me. Because of Natalie Sarabella my tree is magical just like Christmas itself. Here is a photo of the pillow that started it all.

Barbara Boyle