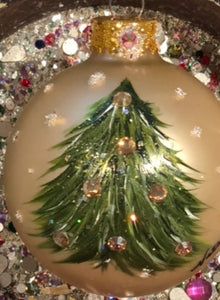 MINI CHRISTMAS TREE by Natalie Sarabella
Celebrating over 25 Years
Tiny Sarabella Christmas tree sparkles with beautiful Swarovski® crystals.
Soft boughs are dotted with handmade glitter and crystals. Flowing sparkle flakes fall and all is Merry and Bright.
If you are looking for something special this little tree is a hand painted and. crystallized by hand ornament. It is a special offer. Perfect start to a Sarabella collection.  They also fit beautifully scattered through your tree.
Limited Quantities