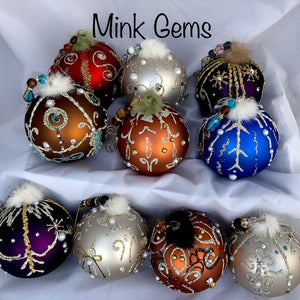 MINK TOPPED GEM by Nataile Sarabella
Jewel toned ornaments are creatively designed with individual designs. No two are exactly alike. 
With the charm of vintage ornaments, they are sure to please anyone who loves lots of lux. Handmade glitter, Swarovski crystals and mink are lavishly abundant on this collection.
Available in 3 sizes.
(Random colors)