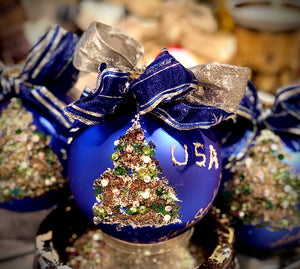 CAMO CHRISTMAS TREE by Natalie Sarabella
This selected ornament is a special limited offering and is only available while supplies last.
For all the patriots on your list. A brilliant sapphire blue ornament is painted and embellished in camouflage style.
The Swarovski® crystals & handmade glitter make this tree stand out in the dark of night. 
Whether your Loved ones are near or far we wish them all the blessings of this beautiful season. 
God Bless our Service men and women, Patriots that stand for our country, flag and family.