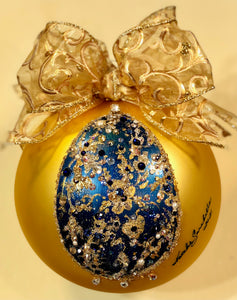 EASTER EGG by Natalie Sarabella
Elegant gold floral scrolls on a sapphire background with 14k gold leaf and sapphire Swarovski Crystals.
At the top of this beautiful egg sits a Swarovski® crystal in a setting looking like a true jewel.  Three crystal teardrops are set at the base of the egg to give it a true Fabergé feel.
Topped off with a ribbon that is just as beautiful as the design.