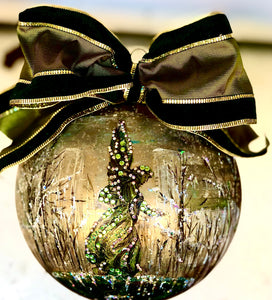 BETHESDA STATUE, Central Park, NYC by Natalie Sarabella  
This is Natalie's beautiful rendition of the most well-known fountains in the world, and the statue at its center was the only sculpture to have been commissioned as a part of Central Park's original design.
Hand painted and Patinated then jeweled by the artist to show the NYC winter sparkle that we all remember.  
This is the only one from the original Bergdorf Goodman Collection.