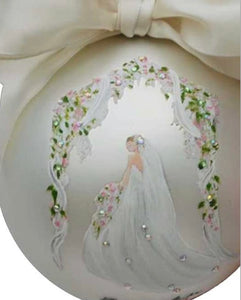 🎵HERE COMES THE BRIDE🎵 by Natalie Sarabella
Something old, something new, something borrowed, something blue, something Sarabella. What more would the beautiful bride need to set off the wedding year. Gear up and start collecting her treasures now. A beautiful heirloom piece to start a Natalie Sarabella Collection for the new bride.
This beautifully delicate painting of the Bride will be Cherished forever. It is also the perfect heirloom to be passed down through the family's generations of brides that follow. 
A true treasure. can be customized. Inquire for details.