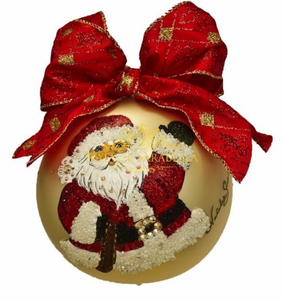 HE'S BACK By Natalie Sarabella
Once again, it's time for our favorite Santa to grace the Sarabella webpage.
The original Santa Claus who made his debut in 1995.
This Jolly guy is one of Natalie's prized ornaments. 
With some changes to bring it up to the Sarabella's standards.
Our exclusive glitters that are mixed in house and lavishly scattered to help Santa shine all through the holiday season.
Brighten up the Holidays with one of the most traditional ornaments from the Natalie Sarabella's collection.