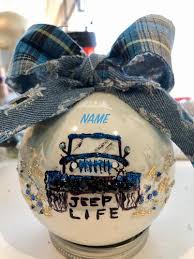 JEEP LIFE by Natalie Sarabella
It's all about Jeep Life, what, you don't know?
That's because "It's a Jeep Thing."
Natalie has created a selection of "Jeep" gifts and collectibles for the Jeep enthusiasts in your life. You might just need to order 2, it will be hard to part with them.
If you are a Jeep owner you probably have named her (or him), Natalie's Jeep is Liberty which depicts her love for her country, she is a true patriot.
Whatever your special name is Natalie will personalize your ornament to make it your own.
So, Jeep wave to all, see you off the road!
ADD PERSONALIZATION INFORMATION AT CHECKOUT