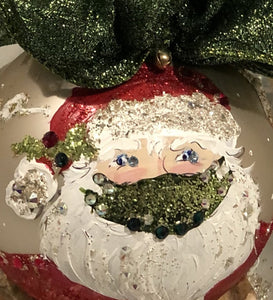 NOTHING STOPS SANTA by Natalie Sarabella
It's been a very tumultuous time, 
but Santa is sure to arrive again in style!
Social distancing & wear your mask.
Santa does. 
Available in 4" .75" or 6" 
(Ornament color will vary)
THIS IS A GREAT KEEPSAKE TO ADD TO THE TIMES AND HISTORY OF YOUR COLLECTION.