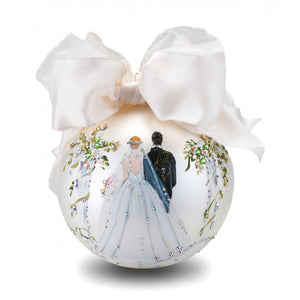 Bride and Groom "Our Wedding" by Natalie Sarabella 
Such a beautiful gift for a Bridal Shower or Wedding gift. Ornament. White pearl bauble with wedding rings tucked away in the beautiful bow.
Hand painted and embellished with Swarovski Crystals and pearls. 
This precious gift will become their favorite Heirloom "First Christmas Together" ornament.  

Can be Personalized.